The Stateland team is a tight team of professionals who produce quality developments from project inception to completion using a knowledgeable, responsible, well managed and sustainable approach to property development.
Peter Macdougall – Managing Director
Peter is the Managing Director and co-founder of Stateland Pty Ltd. Since Stateland's inception in 1994. Peter has sourced and delivered developments across residential and commercial sectors including significant lifestyle residential projects.
From 1984 Peter has been involved in various sectors of the property industry working in Perth, Brisbane and Cairns.
His calculated and conservative, yet futuristic approach is the key to Stateland's success. Peter is passionate about all types of property development and leads a tight team of professionals who share his vision. Peter's adaptability has been one of the keys to his long-standing success in the property development industry.
Caroline Stafford – Finance Director
Caroline is a co-founder of Stateland Pty Ltd with over 20 years finance experience as a qualified accountant, working in both the property development and tourism sectors in Sydney, Perth, Brisbane and Cairns.
Caroline is responsible for supervising and controlling all aspects of the company's financial operations as well as the day to day management of all accounting functions. She is also involved in the budgeting, forecasting, cash flow and financial reporting for all projects from initial conception through to settlement.
Phil Druery – Project Manager
Phil's design concepts are the foundation of Stateland's projects. He coordinates the approval and delivery process for all Stateland developments, liaising with consultant teams and Government authorities to deliver projects on time and on budget.
Phil has 30 years' experience in the tropics as registered Landscape Architect. He is passionate about delivering projects that balance commercial requirements with Stateland's recurring theme of high quality development with a strong emphasis on livability and landscape.
Phil's design skills and project management expertise maximises the potential of Stateland's development projects.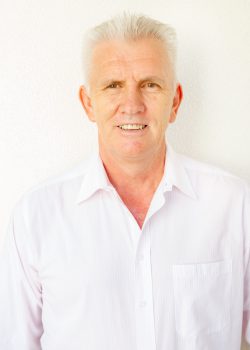 Peter Shervey – Sales Manager
Peter has an ongoing consulting role with Stateland, strategically managing the company's sale process. Peter is responsible for creating and implementing sales strategies and marketing plans. Peter consistently achieves high sales targets and is recognised as a leader in the real estate industry.
He has over 25 years of experience in the real estate and construction industry and has been involved in major projects in Cairns, Townsville, Port Douglas and South East Queensland.
Peter's expertise ranges from sales of single properties through to coordinating the sales of large multi-unit residential and land development projects.
Katrina Kazim – Portfolio Coordinator
Katrina is responsible for coordinating Stateland's portfolio of development projects. She has a solid understanding of planning principles and undertakes extensive research, detailed market analysis and high level feasibility assessments leading to informed and calculated property acquisitions and business decisions.
Katrina has 10 years of experience in the property industry, with a well-rounded knowledge from experience in business administration, marketing, business development, real estate sales, new home construction, residential and commercial property development.
Katrina has an enthusiastic and proactive approach and her attention to detail ensures the smooth running of all projects. Katrina also provides executive support to the Managing Director and Project Manager.